Dear Friend,
Give a person wisdom, wealth, power, and respect and you basically gave him or her almost everything.
Except that wisdom, wealth, power, and respect is not what we think it is.
Here is how the fourth chapter in Ethics of our fathers begins (and forgive me for giving it a bit of a modern interpretation):
Who is wise?
Not the person who managed to become famous because of his wisdom, and even gave a TED talk.
But rather, the person who learns from everyone.
Who is mighty?
Not the person who climbed the corporate ladder and is now exerting control over thousands of employees.
But rather, the person who is able to control himself or herself.
Who is wealthy?
Not the brilliant entrepreneur who made it to the Forbes list of billionaires.
Rather, the person who is happy with their lot.
And who is respected?
Not the person who makes sure that no one steps over him.
Rather the person who respects others.
It's funny - or sad, depends on how you look at it - to realize how society had glorified just the opposite of this. Values of fame and extravagant living have become what many aspired for.
To that, the Mishna presents a beautiful and empowering antidote.
The Mishna says: you CAN be wiser, happier, wealthier, and more powerful - and it all depends on you.
Wishing you a Shabbat Shalom, a happy, peaceful, and healthy Shabbat!
Rabbi Mendel Shmotkin
Pre-Shabbos Community Get-Together
Join us at 4p today and be inspired as we head into Shabbos. Join Rabbi Mendel live for a pre Shabbos community get together. https://www.learn-chabadwi.org/courses/cltc-friday-gathering
Lag Ba' Omer Car Parade
Tuesday, May 12 | 4:00pm | Click here to register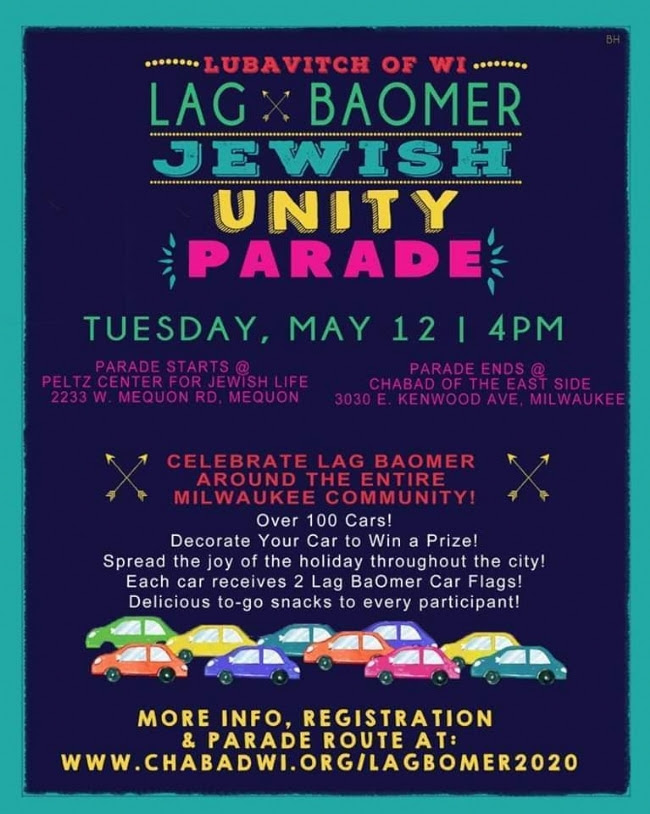 The holiday of Lag Ba'Omer is around the corner, and we're getting ready to celebrate! While the holiday is usually celebrated with outdoor activities and gatherings, we are changing it up this year with a city-wide car parade to spread the joy of the holiday to the entire Jewish community. Be a part of it and get in on the festivities!
Lag Ba'Omer Car Parade
Tuesday, May 12 | 4:00pm
Begins at Peltz Center for Jewish Life - 2233 West Mequon Rd.
Ends at Chabad of the East Side -  3030 East Kenwood Blvd.
Decorate your car to win a prize!  Let your imagination run wild as you decorate your vehicle to help promote Jewish unity in Milwaukee! * 
2 car flags for each car ž Delicious to-go snacks for every participant! ž Partake in simultaneous audio program!
Click here to register, receive your car decorating kit, and for more information.
Not sure what Lag Ba'Omer is all about? Click here to learn more.
Kiddush
This weeks kiddush was going to be sponsored by Mark & Carin Pittleman in honor of the anniversary of Mark's Bar Mitzvah.   
Mazal Tov!
Mazal Tov to Dovid and Dina on the birth of their new baby girl AND a new house! Click here to extend your own personal mazal tov.
Mazal Tov to Grandparents Arie & Essie Rechavel and Uncle Ben & Aunt Hindy  
Mazal Tov to Warren Jacobson on his 75th birthday!
Mazal Tov to Stan Wynn on his 70th birthday!
Let's all be sure to raise L'Chaims to Mark, the Rechavel family, Warren & Stan
How to Daven
Unsure of the how, what, when or where of daveneing while you are home alone on Shabbat? Click Here for the 10 Commandments for davening alone on Shabbat.
The Lubavitch Jewish Academy site brings learning from Chabad Lubavitch of Wisconsin institutions throughout the state to one central access location. This online learning site hosts 30+ courses and classes for you to choose from (with more yet to come). Find courses on topics such as Jewish History, Kaballah & Mysticism, Law & Ethics, Living Torah, and Living with the times. Whatever your interests, there is something for everyone! Visit www.learn-chabadwi.org to view all the available courses.
Tuesdays @ 12:00 PM starting May 12th
Click here to to enroll
Chabad CARE's - Community Assistance and Relief Efforts -COVID 19 Help
Lubavitch of Wisconsin is taking protective measures to provide our community with support. We will be available to deliver food and supplies and make welfare checks for those in need. If you or someone you know is in need of help, please fill out this form to get help, if you would like to volunteer to help, click here.
IN THIS WEEK'S TORAH PORTION:


Parshat Emor

The Torah section of Emor (" Speak") begins with the special laws pertaining to the  kohanim ("priests"), the  kohen gadol ("high priest"), and the  Temple service: A kohen may not become ritually impure through contact with a  dead body, save on the occasion of the death of a  close relative. A kohen may not marry a divorcee, or a woman with a promiscuous past; a kohen gadol can marry only a virgin. A kohen with a physical  deformity cannot serve in the Holy Temple, nor can a deformed animal be brought as an offering.

A newborn  calf,  lamb or  kid must be left with its mother for seven days before being eligible for an offering; one may not slaughter an animal and its offspring on the same day.

The second part of Emor lists the annual  Callings of Holiness—the festivals of the Jewish calendar: the weekly  Shabbat; the bringing of the Passover offering on 14 Nissan; the seven-day  Passover festival beginning on 15 Nissan; the bringing of the Omer offering from the first barley  harvest on the second day of Passover, and the commencement, on that day, of the 49-day  Counting of the Omer, culminating in the festival of  Shavuot on the fiftieth day; a "remembrance of  shofar blowing" on 1 Tishrei; a solemn  fast day on 10 Tishrei; the Sukkot festival—during which we are to dwell in huts for seven days and take the "Four Kinds"—beginning on  15 Tishrei; and the immediately following holiday of the "eighth day" of Sukkot ( Shemini Atzeret).

Next the Torah discusses the  lighting of the menorah in the Temple, and the  showbread (lechem hapanim) placed weekly on the table there.

Emor concludes with the incident of a man executed for  blasphemy, and the penalties for murder (death) and for injuring one's fellow or destroying his  property (monetary compensation).